Lois and Chuck's Feb to Apr 2022 GREAT USA Trip Photos!

Chuck posted over 3,000 photos. We drove apx 12,228 miles RT. The Ford F-150 Turbo V6 used apx 640 gallons of gas and got 19+ MPG overall. And we drove through 21 states...
SCROLL DOWN...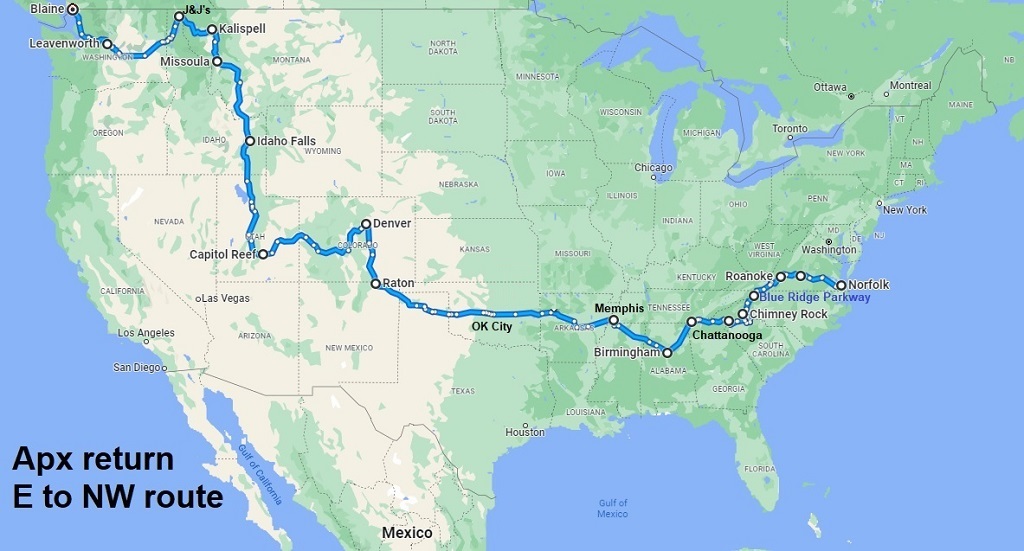 Use the links below to view photos for the date range shown...
Klipsan and Long Beach WA, Depoe Bay OR

Bandon OR, North CA coast, Redwoods, to Fresno CA

Pasadena and The Huntington

Palm Springs/Indio, Jashua Tree NP (Heart & Skull Rocks), Tucson via Phoenix

Tucson Air Museum, Titan Missile Museum/tour, AZ Desert Museum

Tucson to Ft Stockton TX via El Paso, to San Antonio TX (Alamo/Pearl/River Walk) and to Austin TX

Houston and Galveston TX

To New Orleans (French Quarter, swamp trour, etc.) via Lafayette and Baton Rouge

Tampa/St Pete/Everglades via Florida pan handle, etc. via Mississippi and Mobile Alabama (battleship and sub tour)

Key West, Miami, Ft Lauderdale, Mar-a-lago to Titusville FL (near Kennedy Space Center)

Kennedy Space Center, St Augustine FL and up the Georga/Carolina coast (Savanna, Ft Sumter to Wilmington)

Outer Banks, Kitty Hawk, Norfolk (Ft Monroe, harbor tour), Petersburg, Appomattox and to Roanoke VA

Blue Ridge Parkway to Chimney Rock NC, to Cowpens battlefield and Cashiers

Chattanooga, Birmingham and Memphis (Elvis Museum), and west to OK City and Raton NM

NRA's Whittington Center, Denver and on to the Capitol Reef UT area

Drive from UT into ID (Idaho Falls museum) and MT then back into north ID...

Drone photos at J&J's place...

No More Photos After That